Welcome to lovers travel & eat Website!
ASSALAMUALAIKUM AND WELCOME TO MY PERSONAL WEBSITES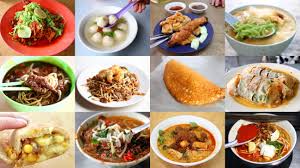 for the tourist Being a Muslim country, finding 'halal' food in Malaysia is easy. Most Chinese restaurants are not 'halal'. The cheapest places to eat are hawker stalls and coffee shops. However, any Malaysian dish will not disappoint your taste buds. You must try these before you leave:
1.Nasi Lemak Rice cooked in coconut milk, served with sambal ikan bilis (anchovies), and boiled eggs.
2.2oti Canai Light crispy dough doused in oil on a hot plate, eaten with Indian curry.
3.Fried Kuay Teow Rice pasta fried and tossed in a wok together with spices, prawns, egg, and bean sprouts.
4.Chicken Rice You can have your chicken steamed, roasted or even barbecued.
6.Curry Puffs A spicy marriage of chunky chicken or beef with soft potato cubes wrapped in crispy pastry.
7.Mee/Bihun Goreng Stir-fried yellow noodles with shrimps, fishcakes, chicken and green vegetables.
8.Banana Leaf Rice White rice served on a banana leaf with an assortment of vegetables, curried meat or fish, and Indian pickles.
9.Satay Tender chunks of marinated chicken or beef skewered over hot charcoal, served with spicy peanut sauce, sliced onions and cucumber.
10.Teh Tarik – a REAL must have "teh" – tea and 'tarik'- pull or stretch. It is tea with milk.
11.Pisang Goreng (banana fritters)
Fried banana.
&copy sazatul syafiqah(14B04023)